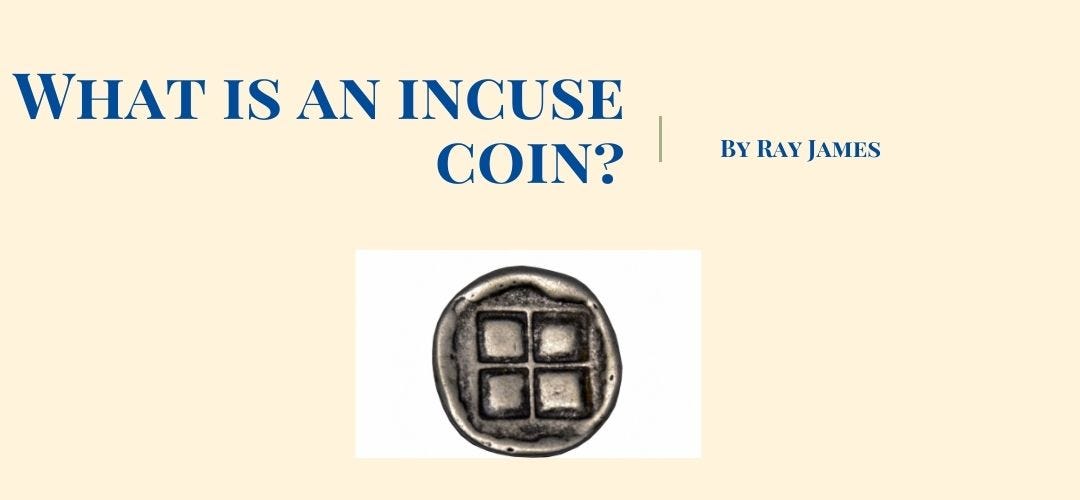 An incuse coin differs radically from a traditional coin. Traditional coins have raised design devices, meaning the details of the design--say the head of a President--will appear on top of the fields of the coin. The designs on incuse coins are structured differently: the fields are the highest point on the coin, and the devices or design details are struck "incused," or indented, below the fields. Incuse coins have been made and used in commerce dating back to 600 B.C. in Greece and Italy.
How incuse coins are made
Incuse coins are created the same way that traditional coins are made: two dies strike a planchet surrounded by a collar. The difference between conventional coinage and incuse issues is in the creation of the dies.
The traditional dies have recessed design details so that the design devices of the coin are raised on the coin, whereas dies for incused coins need to be raised and realized in higher relief to "punch" the details below the fields of the coin.
The higher the definition, the higher a relief treatment on the dies is necessary to achieve a detailed design on incused coinage. The increased definition may require more force in the striking process and precision in setting up the coin press to result in a well-struck incused coin with full design details.
View our glossary of coin definitions here.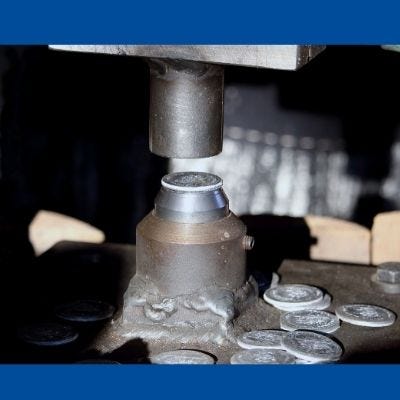 How do incuse coins differ from traditional coins?
The fields of the incuse coin will usually take most of the abuse from handling and circulation. The areas are exposed to other coins and surfaces at the mint. This vulnerability contributes to making the grading of incuse coins more specialized than that of traditional coins.
The recessed nature of the design makes wear more difficult to discern on incused coinage as well. Typically, shallower and broader areas of the incused design will be the highest areas that get the most contact, friction, and wear. Interestingly, traditional coins wear at the highest points of the design as well, just with a different overall effect than on incuse coinage.
Prominent examples of incused coinage
Traditionally, the only incused United States Mint coins were the vintage $2.50 and $5 "Incused Indian" gold coins, struck from 1908-1929. A historical note of interest: these coins were thought to harbor germs during the 1918 Influenza Pandemic, but it was determined that those fears were unfounded.
More recently, the Royal Canadian Mint introduced wildly popular incused Maple Leaf coinage, which provided a modern twist on an iconic Canadian coin design, allowing the Sugar Maple to be seen like never before.
The Perth Mint has also listened to collectors and has struck some sought-after incuse Wedge-tailed Eagle coinage. 2020 will see the Perth Mint artisans release the first-ever 1 oz. Silver Incuse High-Relief Koalas with a mintage of only 5,000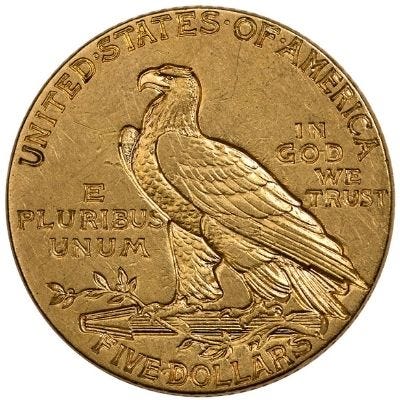 Copyright 2020 GovMint. All Rights Reserved. GovMint.com does not sell coins and numismatics as investments, but rather as collectibles. Please review GovMint's Terms and Conditions, Terms of Use and Privacy Policy before using this website and prior to purchasing from GovMint. All website content is for reference use only and does not constitute investment, legal or financial advice. We encourage the sharing and linking of our information but reproduction of our news and articles without express permission is prohibited. Instead of reproducing, please provide the link to the original article or use the share buttons provided.