Posted:
September 24, 2020
|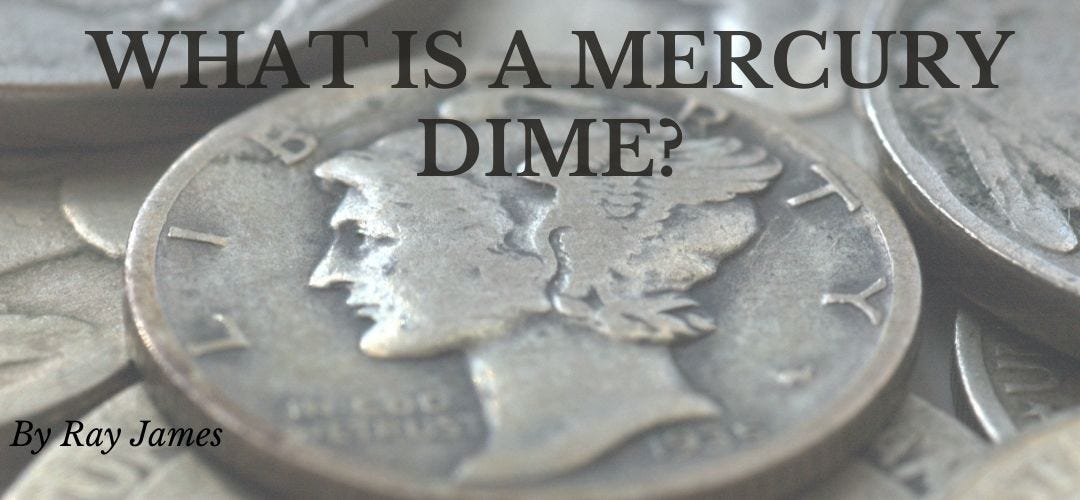 The United States Mint struck the Winged Liberty Head or "Mercury" Dime design from 1916 until 1945. The Mercury Dime is one of the most collected and beloved American coin series ever struck! This series was preceded by the famous Barber dime and was followed by the Roosevelt dime design, which is still circulating today.
The designer of the Mercury dime was noted American artist Adolph A. Weinman. For more information about Adolph A. Weinman and his many numismatic accomplisments, read this Coin Authority article
Mercury Dime Design
The obverse depicts Liberty wearing a winged Phrygian cap. The wings on the cap symbolize "Freedom of Thought." The wing imagery was the design element that caused this depiction of Liberty to be mistaken as a depiction of Mercury, the Roman messenger of the Gods.
The reverse features a fasces ,or ax, and an olive branch.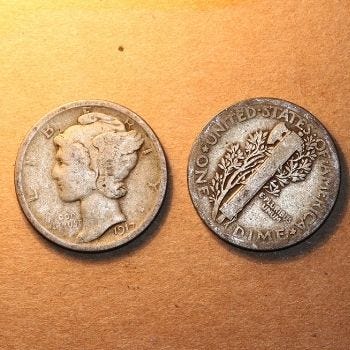 How much is a Mercury Dime worth?
The Mercury dime contains .07234 oz. of actual silver, struck on a 90% pure planchet. Since these coins are comprised of 90% silver, unlike their modern-day counterparts, their melt value is tied to the price of silver at a given time.
Certain issues are more sought after by collectors, and in turn can command higher premiums. Factors that relate to a Mercury dime's collectability include overall mintage, quality of striking, among others.
Mercury Dime Key Dates
1916-D This is the low-mintage, key-date coin sought after by many collectors. Occasionally, very worn examples can be found in "junk silver" Mercury dimes. Counterfeits (or altered 1916 Philadelphia coins) are common enough that collectors often consider encapsulated, graded, and authenticated examples for their collections.
1921, 1921-D Both the Philadelphia Mint and the Denver Mint struck Mercury Dimes in 1921, but each facility's mintages were barely over a million coins each, making both "better date" issues. Coins from before 1921 struck at branch mints also have captured the attention of collectors and often do command "semi-key" premiums.
Mercury Dime Proofs
These coins were struck for only seven years from 1936-1942. The respective mintages get larger every year from a 1936 low of only 4,130 to a 1942 high of 22,329 (still quite a low number), when production was halted due to the United States entering WWII. A Mercury dime proof collection is often considered a cohesive, achievable numismatic goal.
1942/1, 1942/1-D This overdate is one of the better-known die errors. This Mercury Dime is often sought by error collectors and students of the series and was struck at two mints. Raw examples are periodically found in "junk silver" bulk Mercury dimes today, despite discovering the error shortly after its release in 1942.
1945 FB/FSB This is one of the lower mintage coins in the series that has captured serious collectors' attention. Higher graded Mint State examples with the designation are tough to find.
1945-S "Micro S" The San Francisco Mint produced dimes with two different sized mint marks in 1945: the common, standard-sized "S" mintmark and the more desirable "Micro S."
Some of the Most Valuable Mercury Dimes
Full Bands (FB) / Full Split Bands (FSB) designation: Some of the most valuable Mercury Dimes have been Mint State, Full Band (FB) / Full Split Bands (FSB) designated examples. The highest point on the reverse design is the middle set of bands holding the fasces together. To achieve the FSB/FB designation, the line between the two bands must be clearly delineated with no bridging between the two bands. This bridging could be due to worn dies, planchet flaws, or a poor strike. FB/FSB designated coins are among the highest quality. Coins with this designation can often command a premium and are sought by serious students and collectors of the series.
FB/FSB Mercury Dime Examples Sold at Auction:
In 2010, a 1916-D MS67 FB example with a CAC sticker crossed the auction block for a whopping $207,000.
At an auction in 2019, a 1931-S MS67+ FB CAC example surpassed the auction estimate of $22k-$25k and sold for a monumental $270,250.
The auction record for a Mercury dime was set at that same 2019 auction for a monster-toned 1938-S MS68+ FB CAC example that realized $364,250, speeding past the $10k-$12,500 pre-auction estimate.
Sources Used:
https://keydatecoins.com/1916-d-mercury-dime/
https://www.usacoinbook.com/coins/1550/dimes/mercury/1945-S/micro/
https://mercurydime.net/
Any information provided on GovMint.com regarding the coin and collectibles industry, or the products the Company sells, whether authored by the Company itself or republished from third-party sources, is for reference use only, and does not constitute the rendering of investment, legal, financial, or professional advice. The retail prices of the products the Company sells are not to be used as a definitive guide to value for a product, nor should any comparable value statement provided in Company communications be construed as an indication that your purchase will perform similarly. The market for collectible coins, metals, and numismatics is highly speculative and involves substantial risk. These risks include, but are not limited to, price volatility, fluctuations in supply and demand, changing grading standards, and fluctuating populations. It is impossible to forecast accurately whether or to what extent these factors (or other factors) will affect market prices.
GovMint.com does not sell coins or numismatics as investments, but rather as collectibles. The Company expresses no opinion regarding the soundness of any collectible coin, metal, or other numismatic product as an investment. You agree and acknowledge that: (a) neither GovMint.com nor any of its employees or representatives acts as your agent or fiduciary; and (b) GovMint.com employees are not licensed investment advisors and are not making any specific recommendations regarding any forms of investment. GovMint.com does not and cannot guarantee that you will be able to sell any products you purchase from the Company for a profit in the future.
Copyright 2020 GovMint. All Rights Reserved. GovMint.com does not sell coins and numismatics as investments, but rather as collectibles. Please review GovMint's Terms and Conditions, Terms of Use and Privacy Policy before using this website and prior to purchasing from GovMint. All website content is for reference use only and does not constitute investment, legal or financial advice. We encourage the sharing and linking of our information but reproduction of our news and articles without express permission is prohibited. Instead of reproducing, please provide the link to the original article or use the share buttons provided.