Security Features on Coins, Currency, and Bullion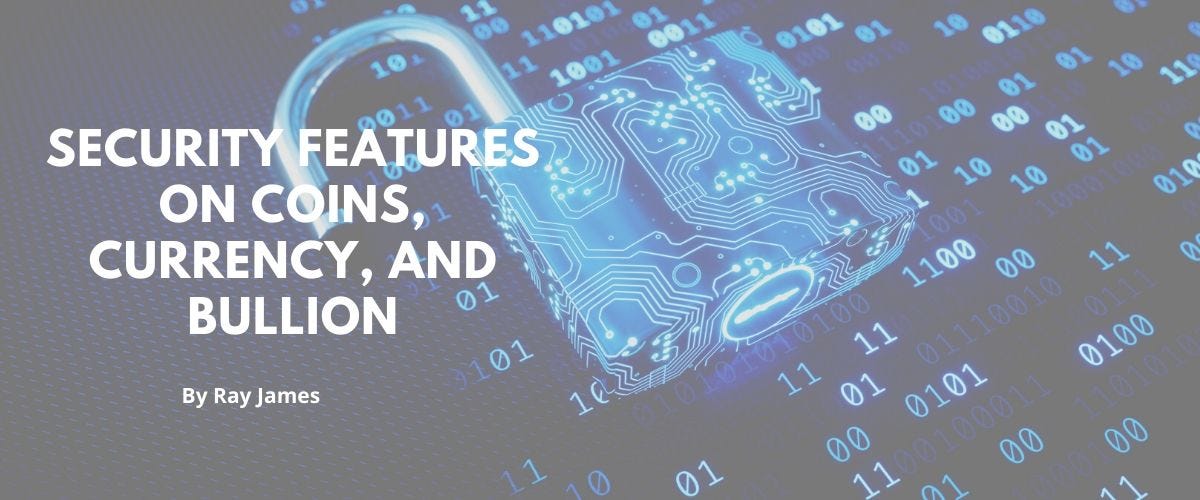 Counterfeits are as old as circulating coinage, currency, and the hobby of collecting them. Through the years, various mints around the world have developed coin security features and anti-counterfeiting technologies. These safeguards have been put in place to help collectors and the public have faith the money in their pockets, and that their collections are filled with genuine coins, bullion, and currency.
2021 Silver Eagle Re-design
The most notable development in the last year or so regarding safety features and anti-counterfeiting technology is the upcoming 2021 redesign of the American Silver and Gold Eagle coinage which will debut at some point in mid-2021. The United States. Mint has confirmed that with their redesign of these iconic coins, an undisclosed amount of coin security features will be incorporated. At this point, the nature of these U.S. Mint security features or the exact design they anticipate using have not been disclosed, but this is an exciting development for one of the most popular modern coin series in the world.
For more information about the upcoming improvements to the American Eagle Series, read this Coin Authority article.
*Update 06/22/2021
It has been revealed that the 2021 Type-2 American Silver Eagle Brilliant Uncirculated and Proof coins featuring the new reverse design created by Emily Damsta will include an enhanced security feature. The security feature is an anti-counterfeit reeded edge variation, implemented for the first time by the United States Mint. Essentially, within the reeded gap edge, there are very small gaps. Whether the size or position of that spaces will change for future releases is currently unknown. This security feature will also appear on the Type-2 1-ounce American Gold Eagle Brilliant Uncirculated coins featuring their new reverse designed by Jennie Norris.
Royal Canadian Mint Security Features
The Royal Canadian Mint has long been regarded as an innovator in the design of their coinage and bullion products. They recently developed their Bullion Coin DNA system. This system is "The World's Most Advanced Coin Authentication System" on the RCM website. The term "DNA" stands for "digital non-destructive activation."
Using a specialized reader, the system captures image codes encrypted on the coins themselves that correlate with information stored in an RCM secure database. Other Royal Canadian Mint security features include their world-renowned .9999 metal purity, their "Laser Mark Micro Engraving" privy marks and the usage of intricate, hard to fake, laser engraved radial lines in the fields of the coin. These radial lines have appeared on the Mint's iconic Maple Leaf series since 2015.

The usage of this intricate, radial designs in the fields of the coin has been adapted or developed independently by other leading mints, including the British Royal Mint and the Perth Mint. The Perth Mint also includes a micro-engraved "A," only visible under close magnification, in the "A" in Australia on the obverse of their bullion products and numismatic coinage.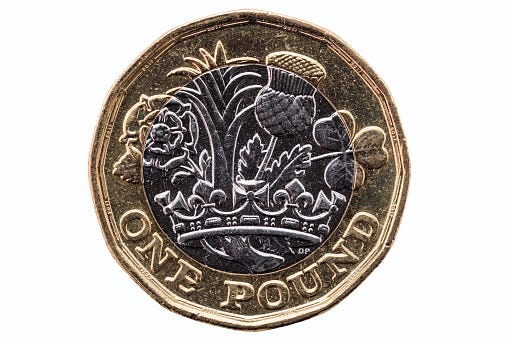 The Royal Mint Security Features
The British Royal Mint recently recalled their circulating "round pound" coinage because the design, which hadn't been materially altered since 1983, was widely and successfully counterfeited. The new 12-sided, bi-metallic pound coin contains a number of security feature innovations. The twelve sides of the coin are not equal--this should be very difficult for ne'er-do-wells to copy in and of itself.
The coin is bi-metallic, with an unusual, hard-to-replicate electronic signature. It is suspected to have a detectable material inside the coin which can be electronically scanned by vending and counting machines. Other security features include a holographic image, micro-sized lettering, and unique electroplating.
New Security Features Added to Silver and Gold Britannias in 2021
In 2021, The Royal Mint debuted four new security features on their beloved silver and gold Britannia bullion series, as part of the Mint's anti-counterfeiting efforts.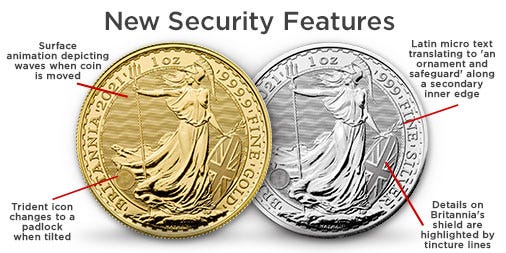 The first new security feature is an intricate, wave-patterned background that almost brings the coin to life when you move it around in light. The Royal Mint also added tincture lines to Britannia's iconic shield. Tincture lines are a traditional art that creates patterns and colors on metal. A security mark inside a circle appears on the reverse of the coins, a new feature in 2021. When you tilt the coin, a hidden image is revealed as you rotate the coin around. The last addition is a laser-etched micro text inscription that appears on a band inside the main border of the coin. The inscription, "DECUS ET TUTAMEN" is a Latin phrase meaning "an ornament and safeguard."
These security features combine the classic Britannia design with modern minting security allowing collectors to appreciate the series like never before.
Assay Security Features
The Perth Mint, the Royal Candian Mint, and The British Royal Mint, among others, produce bars that are sold in assay packages. While the design of these packages has changed over the years, they usually consist of a plastic bubble encasing the bar itself, and a paper or plastic tamper-evident card sealing the plastic bubble.
Often there is a serial number printed on the packaging and repeated on the bar itself. Again, elaborate, hard-to-replicate, repeating, reflective, and micro-engraved patterns are often included on the reverse of the bars. The serial number information is available for verification from the various mints.
A number of gold and silver bars are available in assays including 1 oz. Perth Mint Gold Bars and Pamp Suisse Gold Bars.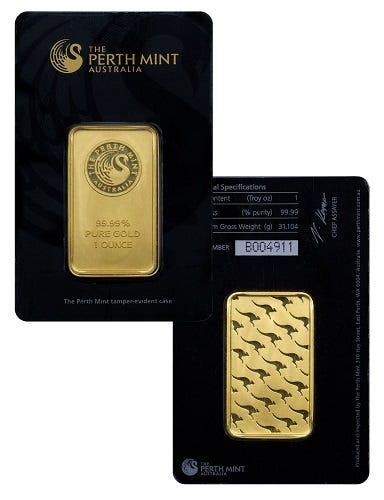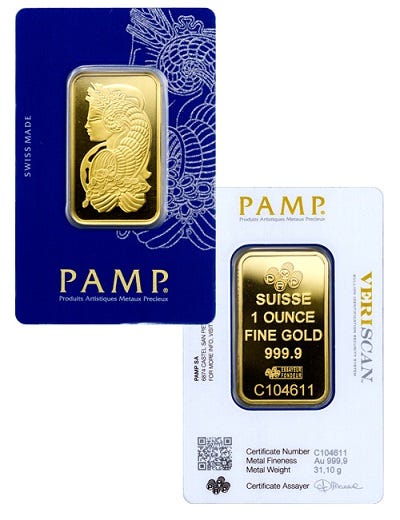 Pamp Suisse Security Features
Produits Artistiques Métaux Précieux othersie known as PAMP Suisse is one of the world's preimenent bullion refiners and producers. Their gold bars are well known to collectors and feature iconic images, just as Lady Fortune, on their aptly titled Fortuna bars.
Pamp Suisse has taken the idea of a simple assay card to a new level by developing their innovative VERISCAN™ technology. The revolutionary system uses the unique, microscopic 'surface profiles,' not unlike a fingerprint, to identify and confirm authenticity through the use of their advanced scanning technology.
The system is simple to use and widely available. All that is required is the free app, an imaging device with a desktop PC, or an iPhone 7 or later device. For more information check out Pamp's website here.

Sunshine Minting Security Features
Sunshine Minting has been an innovator in the area of security enhancements as well. They have long produced their industry stalwart 1 oz Silver Buffalo Round along with precious metals bars in the assay. The mint mark "SI" is their exclusive Scrambled Indicia security feature that is micro-engraving for all Sunshine bullion products. Reading the security pad requires a unique Mint Mark SI™ decoding lens.
They have also developed COINWISE for use with Android and iOS mobile devices. This technology is embedded in the colorized artwork or their collectible products and hidden from the human eye and only readable through the device.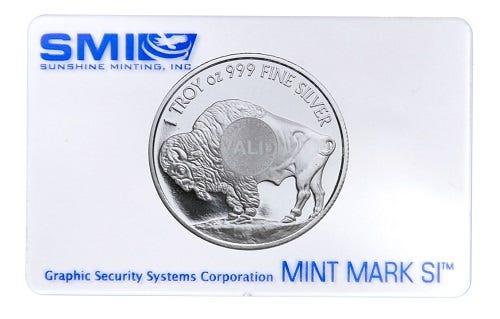 Royal Australian Mint Security Features
The Royal Australian Mint (RAM) has recently started including three new tiers of security features that are applied to certain gold investment products, most notably their recent 2020 Gold Beneath the Southern Skies coin. According to the Mint, each coin that receives this treatment is protected by three layers of security features.
The first is an easily detectable "glow" evident only under a black light, and the second is a "semi-covert identifier verified by a purpose-built detector." Both features occur on the rim of the coin and are detectable by a handheld device even though the coin's protective packaging. The final security feature that appears on such gold investment coins is the ability to verify the digital live signature of the coin through select authorized distributors.
Security Features on Graded Coins
Innovation and security features aren't limited to new bullion products. Numismatic collectors have long been concerned with the problem of counterfeiting and bogus coins. When a coin is submitted for grading to a third-party service, the coin is also verified as being authentic by a team of experts.
Independent grading services like PCGS, NGC, and ANACS have long used photos, sealed holders, special labels alongside identifying serial numbers and holographic stickers to address the authenticity of their holders and the authentic coins therein.
Security Features on United States Currency
U.S. anti-counterfeiting and security measures aren't limited just to coinage.
The Bureau of Engraving and Printing utilizes not only their traditional cotton paper and colorized fibers in United States dollars of all denominations, but also colorized, color-shifting and iridescent inks, security strips, and water-marks, that allow them to keep one step ahead of the counterfeiters.
Authenticity is essential in commerce, in stacking, and in collecting. These security features, measures, and enhancements have been put in place to protect everyone. One thing that all collectors can do to protect themselves further is to add to their collections from a trusted source like GovMint.com.

Sources Used:
https://www.pamp.com/veriscan
https://www.mint.ca/store/mint/about-the-mint/bullion-dna-8900026
http://www.perthmintbullion.com/us/Blog/Blog/18-11-05/New_features_abound_on_2019_Australian_Kangaroo_gold_bullion_coins.aspx
http://www.perthmintbullion.com/us/Blog/Blog/15-05-20/Don_t_Get_Duped_By_Fake_Minted_Bars.aspx
https://www.coinworld.com/news/precious-metals/market-analysts-react-to-u-s-mint-s-american-eagle-redesign-efforts
https://www.royalmint.com/aboutus/press-centre/nations-of-the-crown/
https://www.bbc.com/news/business-39409313
"GovMint.com® is a retail distributor of coin and currency issues and is not affiliated with the U.S. government. The collectible coin market is unregulated, highly speculative and involves risk. GOVMINT.COM MAKES NO WARRANTIES, REPRESENTATIONS, OR PROMISES AS TO ITS PRODUCTS EXCEPT THOSE SET FORTH IN ITS TERMS AND CONDITIONS, AND NO IMPLIED WARRANTIES OF MERCHANTABILITY OR FITNESS ARE MADE. Prices, facts, figures and populations deemed accurate as of the date of publication but may change significantly over time. © 2019 GovMint.com. All rights reserved."
Copyright 2020 GovMint. All Rights Reserved. GovMint.com does not sell coins and numismatics as investments, but rather as collectibles. Please review GovMint's Terms and Conditions, Terms of Use and Privacy Policy before using this website and prior to purchasing from GovMint. All website content is for reference use only and does not constitute investment, legal or financial advice. We encourage the sharing and linking of our information but reproduction of our news and articles without express permission is prohibited. Instead of reproducing, please provide the link to the original article or use the share buttons provided.