What is a Walking Liberty Half Dollar?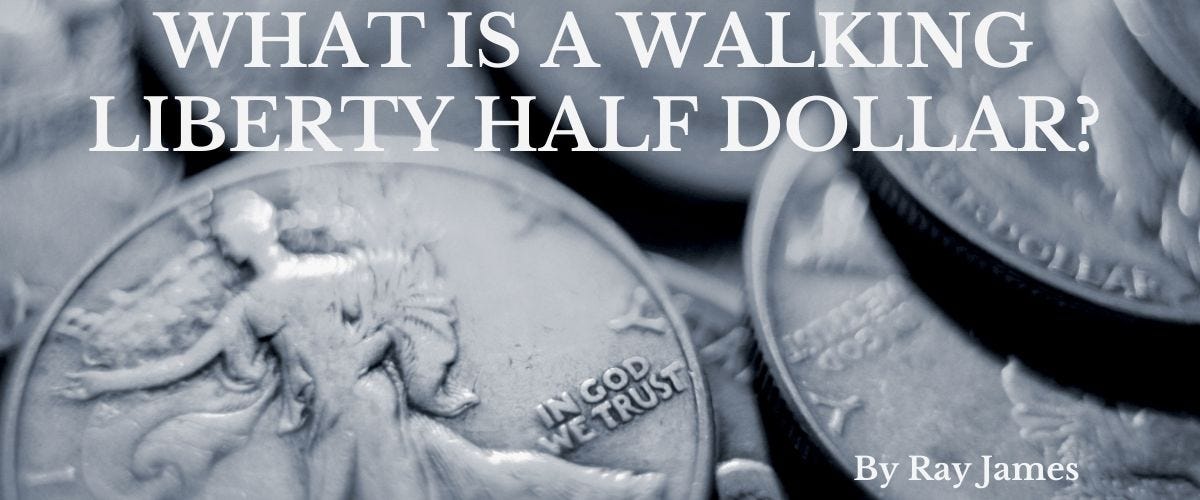 The Walking Liberty Half Dollar is one of the most beloved designs in Twentieth-Century American coinage. The silver half dollar debuted in 1916 and was struck through 1947. The Barber Half Dollar preceded it, and the Franklin Half Dollar followed it as circulating half dollar designs. The silver Walking Liberty Half Dollar was one of the final issues that were part of the "Renaissance of American coinage"—the coinage redesign put into motion by President Theodore Roosevelt in the previous decade.
Walking Liberty Silver Half Dollar Design
The Walking Liberty Silver Half Dollar design was brought to fruition by Adolph A. Weinman, the designer of the famous Mercury Dime, which also debuted in 1916. Both designs won a public competition for the selection of new coin designs. Mr. Weinman was a student of famed artist and coin designer Augustus Saint-Gaudens, who was responsible for the iconic Double Eagle Twenty Dollar design.
The obverse design is widely thought to be the most beautiful image ever struck in silver by the U.S. Mint. Today it remains familiar to collectors as the obverse design used on the wildly popular American Silver Eagle series. While the Silver Eagle series's reverse is set to change in mid-2021, the obverse design will largely remain the same.
The obverse of the Walking Liberty Half Dollar features an image of Liberty striding over rocky terrain. Her hand is outstretched towards a new day, and she is wrapped in the American Flag. She carries branches of oak and laurel, symbolizing strength and prosperity, respectively. Inscriptions on the obverse include the date, "LIBERTY," and the national motto, "IN GOD WE TRUST."
The reverse of the coin features the American Bald Eagle on a rocky outcrop with a mountain pine springing from it, representing America's rugged roots. Inscriptions on this face include "HALF DOLLAR," "UNITED STATES OF AMERICA," and "E PLURIBUS UNUM. The initial of Adolph Weinman, the Walking Liberty designer, "AAW" appear under the eagle's right-wing.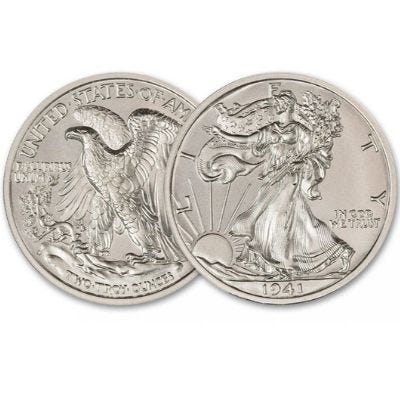 Walking Liberty Half Dollar Highlights
Walking Liberty Half Dollars were issued from 1916-1947.
Walking Liberty Half Dollars contain 12.50 grams of .900 fine silver.
Walking Liberty Half Dollars were struck at the Philadelphia, San Francisco, and Denver branches of the United States Mint.
The Walking Liberty obverse design appears on modern-day American Silver Eagles!
Proof Walking Liberty Half Dollars
Walking Liberty Proofs were struck from 1936 until 1942. The mintage of the 1936 Proof Walker is a low 3,901. The mintages gradually rise with each successive year and end with a still relatively low mintage of 21,120 for the 1942 Walking Liberty Half Proof. Proof examples in excellent condition are often available today as most of these stunning coins were sold to collectors instead of being issued for circulation.
Valuable Walking Liberty Half Dollars
1919-D Half Dollar—the auction record for a Walking Liberty half was set at Heritage in 2004 for a 1919-D example in Mint State 66 condition, graded by PCGS. This coin garnered a winning bid of an astounding $270,250.
The 1921-S and 1021-D issues come in next with whopping bids of $188,000 and $168,000, respectively.
The 1917-S with obverse mint mark earned a $152,750 bid.
The top five's final entry rounded out when a 1918-D example earned a $108,000 bid at auction.
How Much Silver is in a Walking Liberty Half Dollar?
Walking Liberty Half Dollars contain 12.50 grams of .900 fine silver and .100 fine copper for a total net weight of .36169 ounces of pure silver. The half dollars also have a diameter of 30.6 mm and a reeded edge.
Where is the Mint Mark on Walking Liberty Half dollars?
Walking Liberty Half Dollars were struck at three different mints, the Philadelphia, Denver, and San Francisco Mints. Only Denver and San Francisco Mint struck walkers will carry their "D" and "S" mint marks, respectively, while issues struck at the Philadelphia Mint are distinguished by their lack of a mint mark. From 1916 to 1917, the mint mark on a Silver Walking Liberty Half Dollar could be found on this obverse, just below the motto. From 1917 to 1947, the mint mark can be found on the reverse in the bottom left portion, underneath the olive branch.
How Much Does a Walking Liberty Silver Half Dollar Weigh?
A Walking Liberty Half Dollar weighs 12.50 grams. Its net weight contains .36169 ounces of pure silver.
Copyright 2020 GovMint. All Rights Reserved. GovMint.com does not sell coins and numismatics as investments, but rather as collectibles. Please review GovMint's Terms and Conditions, Terms of Use and Privacy Policy before using this website and prior to purchasing from GovMint. All website content is for reference use only and does not constitute investment, legal or financial advice. We encourage the sharing and linking of our information but reproduction of our news and articles without express permission is prohibited. Instead of reproducing, please provide the link to the original article or use the share buttons provided.